Discovering the Roots of Felting in the Altai Mountains
The Felting Trip of a Lifetime…. 
Would anyone be interested in joining us for a couple of weeks voyage of discovery into the Altai mountains, located in east-central Asia, where Russia, China, Mongolia and Kazakhstan meet? We'll journey to find the roots of felting, experiencing the life, sounds and smells of the Siberian Altai, including the Pazyryk Kurgan along the way.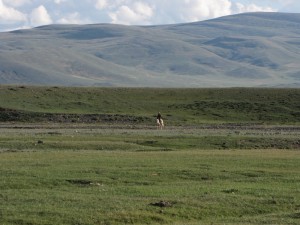 2000m up on the Siberian Steppe
The trip includes transport and professional guides from Barnaul and back again, with 4X4 vehicles, food and accommodation in cabins, yurts, and tents. During our stay we will be spending part of the day exploring feltmaking using local wools and techniques, combining them with Karoliina's Scandinavian techniques and designs, looking for the ultimate Altai fusion. The rest of the time will be spent getting to know local people, discovering their way of life and traditions, culture and attitudes. Sharing food, songs and music is one of the easiest ways to get insight into another's world. Visits to local sites of interest and exploring the local mountain environment, as well as a visit to the grail of felting, the Pazyryk Kurgan are included.
Roderick and Karoliina will be traveling round trip  by train from Finland to Barnaul and home again. If you would like to join us you are welcome to do so. The train is between 300 & 500 euros/person, round trip  depending on which sleeping class you choose. If you choose to travel by train you will want to spend some time with us in St. Petersburg, either before or after our trip. The train terminal is there, so you will be changing stations anyway. A whole day, at least, spent at the Hermitage is something you will always remember The Pazyryk collection of felt artifacts is housed here..
If you are seriously considering this trip you will need to plan well in advance in order to obtain the Russian visa.
This will be a real voyage of felting exploration. Hope to see you there!
Please contact us at roderick.welch(at)gmail.com for more info.Cheers, Rod & Karo