The LiinaLommi Felting Frame ©
It was first developed and designed and built by us with the support of our local Department of Trade and Industry and Leader+ Agency for European Rural Development. We finished the first prototype in 2003 after several years of experimentation and testing. One of the first design considerations was that the machine be portable. To achieve this we made the machine completely demountable. (This also enabled us to get a three metre machine into the workshop through the dog-leg entrance hall.) If needed they come in component parts and everything just bolts together… (Instructional video included) They are free-standing, on casters, once assembled so can be moved around easily. Very simple to put together, one adjustable wrench is all that's needed.
We built these machines to make and finish our felts to completion
and avoid unnecessary hand and back work…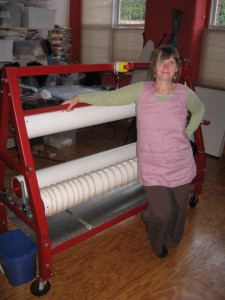 Painted for a tough and durable finish, with the colour of your choice, these machines are designed with the serious felter in mind.
From production felters making series of hats, bags or lightweight Wool/Silk Laminate fabric and scarves, to Fibre artists needing to make LARGE works too big to handle solo, by hand.
Full technique and workshop demonstrations available. Instruction and lifetime support included.
One of the innovative features of this machine is the ability to have up to 4 felts rolling at the same time, all at different stages of completion. (Each felt has it's own independent pressure roller)On the 60-inch machine there can be two felting stations, on the 120-inch machine there are up to four felting stations. The machine can take your felt to carpet hardness with no extra hand fulling/felting necessary. Also available is our unique Drum accessory for "tumble felting" and fulling/shrinking shoes, hats, scarves etc.
Please contact us for more details…
The concept of the Felting Frame came about because of Karoliina's need to make large and heavy felts. The traditional wet felting technique involves a huge amount of physical effort.