KAROLIINA ARVILOMMI FELTING DESIGN
Värtsilä, FinLand
Further North than Anchorage, Alaska…
Further East than Istanbul ,Turkey….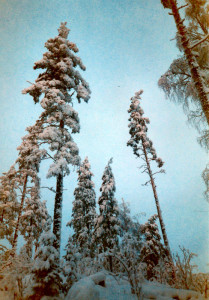 …..the trees are alive!!.
It's a sunny, snowy winter in Finland this year… but at the moment we are in Teruel, Spain looking at a venue for a Masterclass here in June 2017. Home for the New Year and in time do a bit of maintenance on our vintage wooden skis… Mmmmm, love the smell of pine tar. Check out our new schedules for next year.
Have a great winter. Karoliina and Roderick.